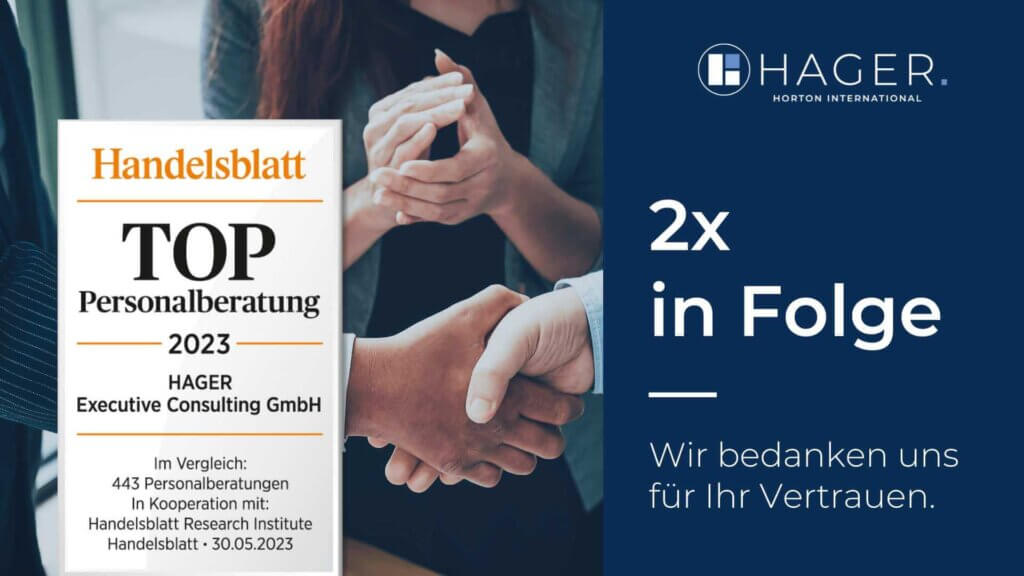 As part of an industry study by the Handelsblatt Research Institute, HAGER Executive Consulting made it into the top 40 for the second time in a row Executive Search Consultancies in Germany. The study emphasizes the importance of digitization.
For the second time this year, the Handelsblatt Research Institute (HRI) dealt with the question of which of the more than 2.000 management consultancies operating in Germany can be considered the best in their field. In order to arrive at a reliable judgment, the independent research institute founded in 2013 under the umbrella of the Handelsblatt publishing group, in cooperation with the business data specialist The IQ Company, surveyed around 20.000 employees in 1.000 Executive Search Consultancies. In addition, the survey of around 48.000 specialists and executives and HR managers was included in the evaluation. From about 2.800 Executive Search Consultancies, the respondents were asked to name the names that, in their opinion, represent the most renowned service providers overall. They were also asked about their recommendations for individual industries, functions, hierarchical levels and salary levels. As a result, HAGER Executive Consulting managed, as in the previous year, to clearly stand out from the competition and to place among the 40 most frequently mentioned Executive Search to occupy consultancies. This is HAGER's second prestigious award this year as a result of recognition from the competition and the clientele: in May of this year, in a comparable vote, HAGER was voted top personnel service provider by FOCUS Business for the tenth year in a row.
The choice for the Handelsblatt Top Executive Search Consultancy 2023 was also part of a large-scale study on digitization in the Executive Search Consultancy. As a result, the HRI comes to the conclusion in its study that almost every second participant (43%), including those responsible in Executive Search Consultancy companies, executives and HR managers who regard digitization as the most pressing issue in the industry. Aspects such as dealing with the possibilities of artificial intelligence are playing an increasing role, whether as a tool or as an increasingly sought-after qualification for applicants.
"Of course, we are delighted to have been honored by the Handelsblatt again this year," explains Martin Krill, CEO of HAGER Executive Consulting GmbH. "The context of this year's study also shows us in which areas we have been able to convince so far and where we are still required to guarantee and prove top performance."